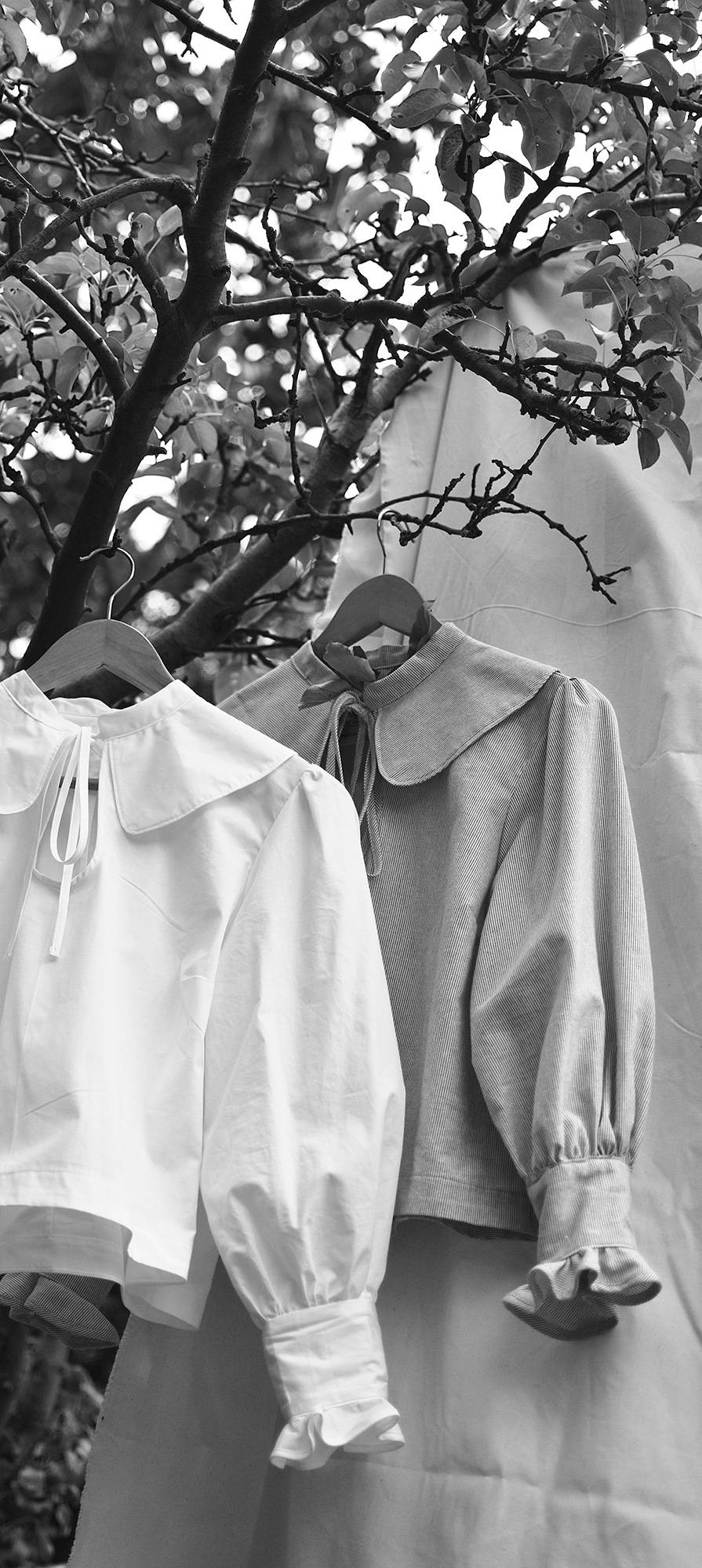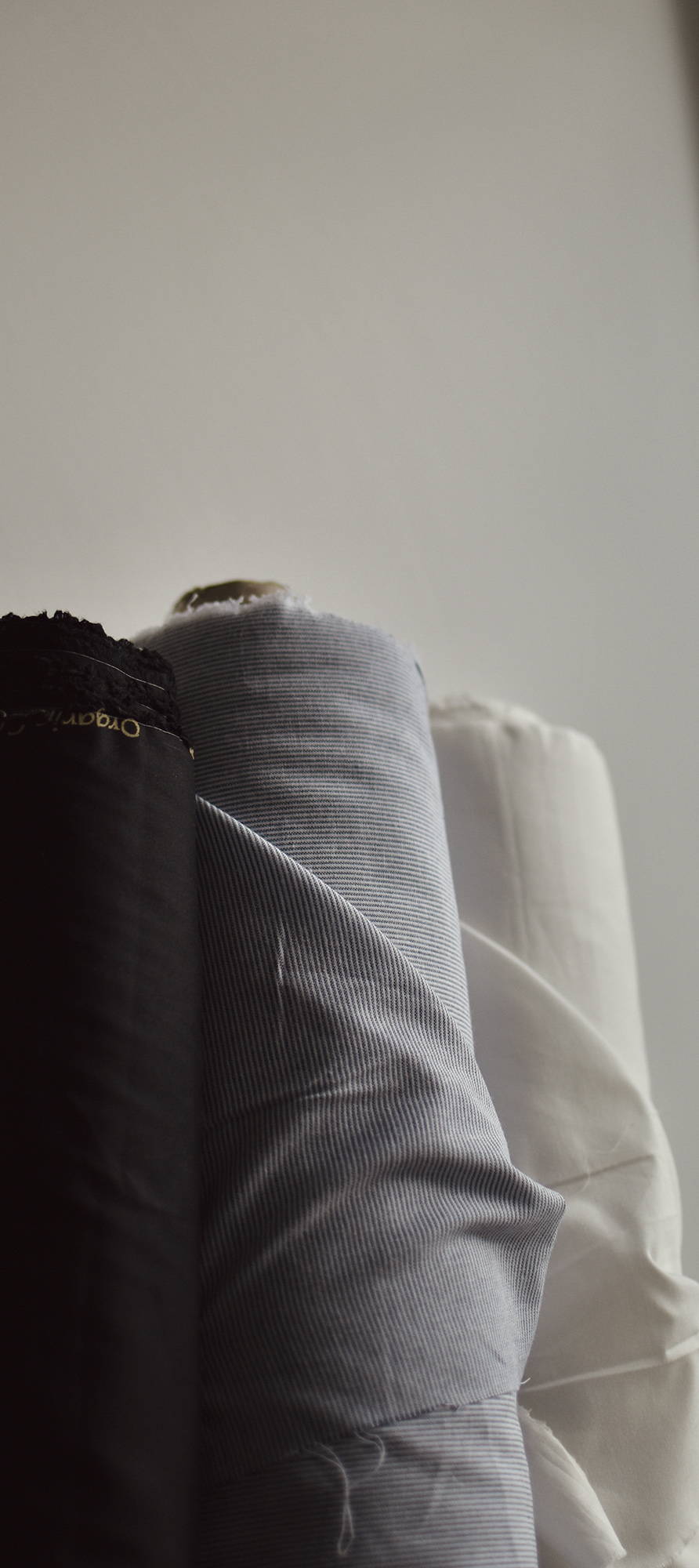 THE POÉSIE BY JULIE MISSION
Poésie by Julie believes that design and environmental responsibility go hand in hand. Working with fabric suppliers that have the necessary eco-verified certifications and ordering in small quantities - investing in quality over quantity, and also avoiding surplus or wastage. 
Poésie by Julie has a modern vision, creating timeless pieces to be cherished forever. I hope to help drive the fashion industry towards a slower, responsible and environmentally conscious future.
I only source and use natural fibre fabrics. As synthetic fabrics such as polyester, nylon and acrylic (all of which are a form of plastic) are not only harmfully produced, but contribute to micro-plastic pollution each time the material is washed. 
All cotton fabrics and threads to sew up the garments are 100% Organic Cotton. 
The woven Poésie by Julie labels are made from 100% recycled polyester, which is made from PES (recycled plastic bottles). 
Every Poésie by Julie piece is made-to-order, reducing surplus and wastage. Read more about how made-to-order is a sustainable business model here.
PACKAGING & SHIPPING
Your Poésie by Julie order will come wrapped using eco-friendly packaging. The tissue paper, stickers, tape and cardboard box are all made from recycled materials and are 100% recyclable.
The swing tags are made from 100% recycled uncoated paper and tied using recycled ribbon.
The mailing sacks used are 100% biodegradable, and also feature a double sealing strip, to be used twice. 
For every order shipped, Poésie by Julie pays a cost to offset the carbon emissions.
WHY CHOOSE ORGANIC COTTON
Poésie by Julie uses cotton made as per the GOTS (Global Organic Textiles Standards). There are many reasons why organic cotton is better for the planet. The World Economic Forum has identified water scarcity as one of the top ten global risks to society over the next ten years, and the majority of cotton is grown in countries facing water shortages. Organic cotton has significantly fewer negative impacts on water than non-organic. 
By farming cotton in an organic way, you eliminate the need of highly toxic substances from the soil and the surrounding environment. Hazardous synthetic pesticides need to be diluted to bring them to 'safe' levels when they enter waterways. One fifth of water used to grow non-organic cotton is used for this purpose. This is not the case for organic cotton because hazardous pesticides are banned in organic farming. 
Organic farmers use natural methods like composting to create healthy soil. Healthy soils act like a sponge, soaking up water during floods and holding it for longer during droughts. Organic cotton uses up to 88% less water, comparing to conventional cotton.
TENCEL™ 
TENCEL™ fibers help maintain environmental balance by being integrated into nature´s cycle.
TENCEL™ Lyocell and Modal fibers help to maintain the environmental balance by being integrated into nature´s cycle. The fibers originate from the renewable raw material wood, created by photosynthesis. The certified biobased fibers are manufactured using an environmentally responsible production process. The fibers are certified as compostable and biodegradable, and thus can fully revert back to nature.
TENCEL™ Lyocell fibers have gained a commendable reputation for their environmentally responsible closed loop production process, which transforms wood pulp into cellulosic fibers with high resource efficiency and low environmental impact. This solvent-spinning process recycles process water and reuses the solvent at a recovery rate of more than 99%. Consumers can have the assurance that their fashion choices are not contributing to an adverse impact on the environment.
Wood and pulp used by the Lenzing Group comes from natural forests and sustainably managed plantations.