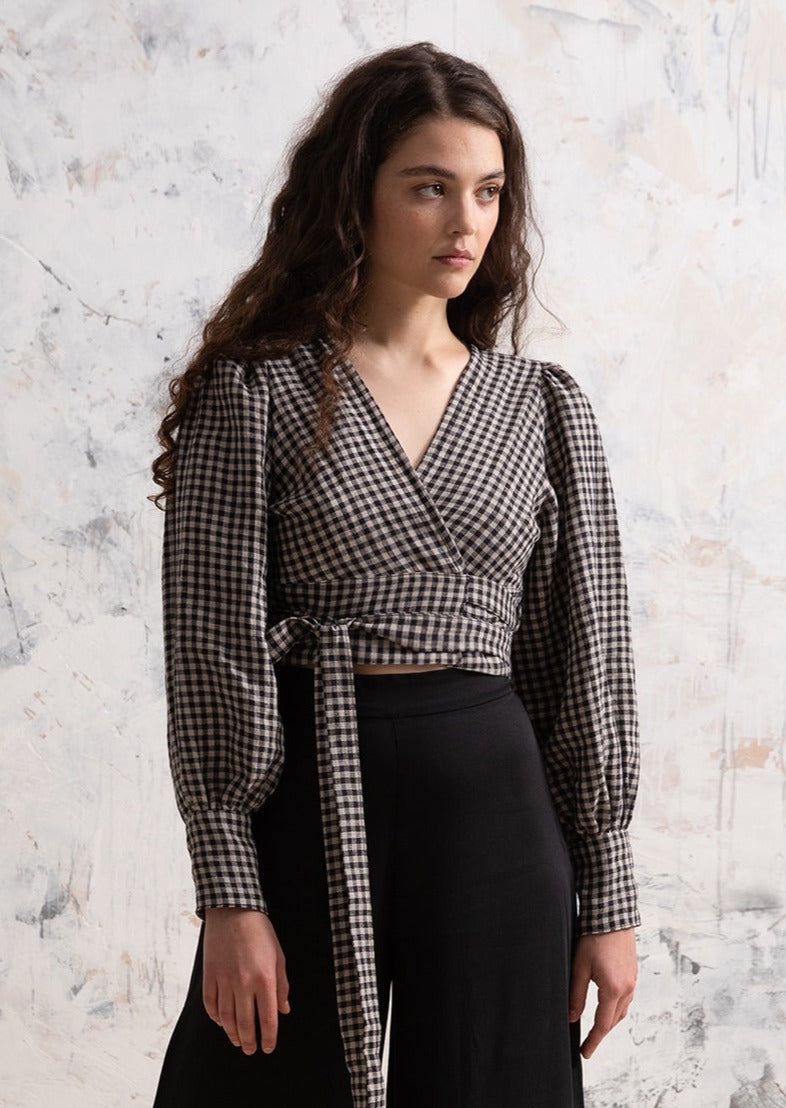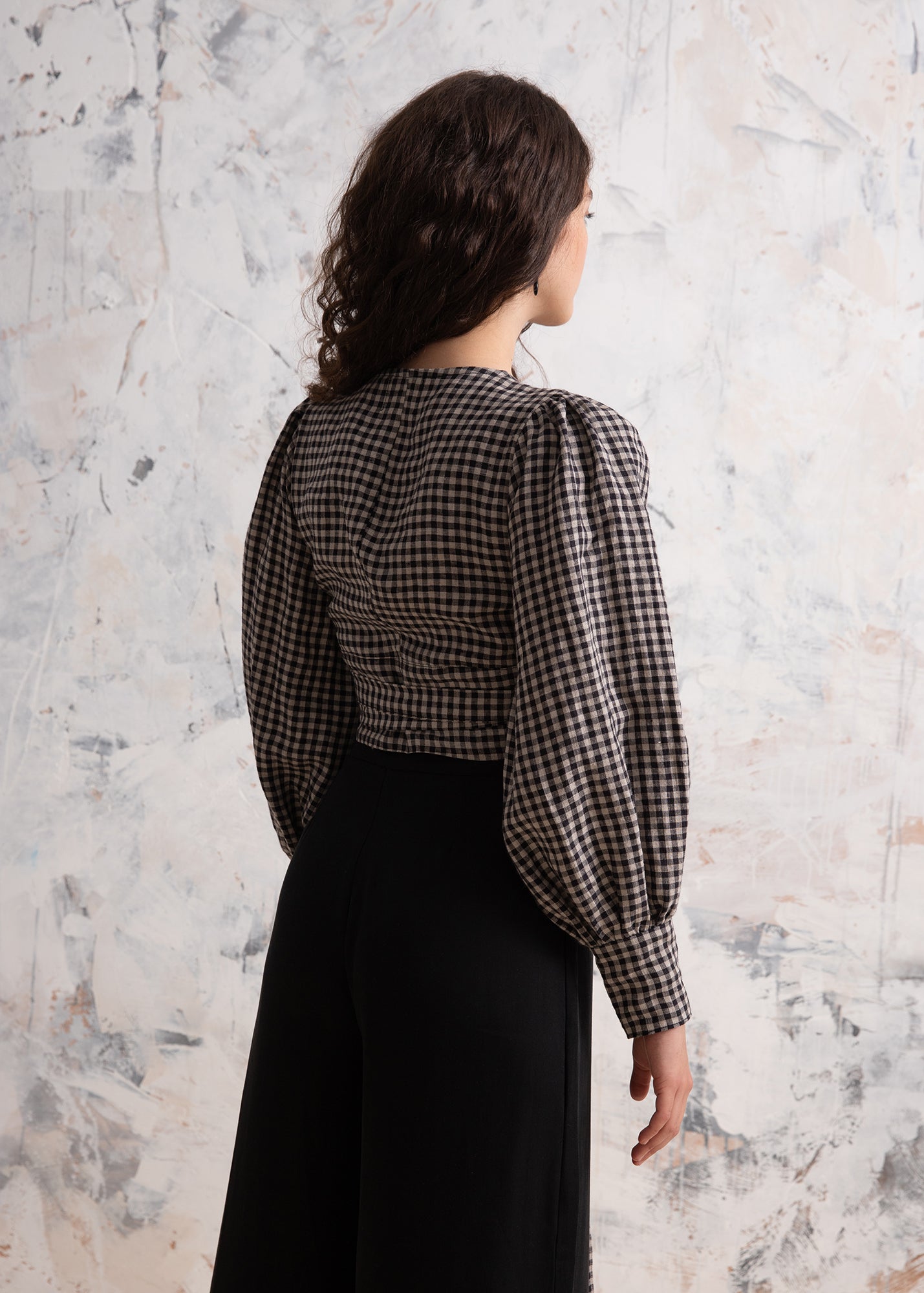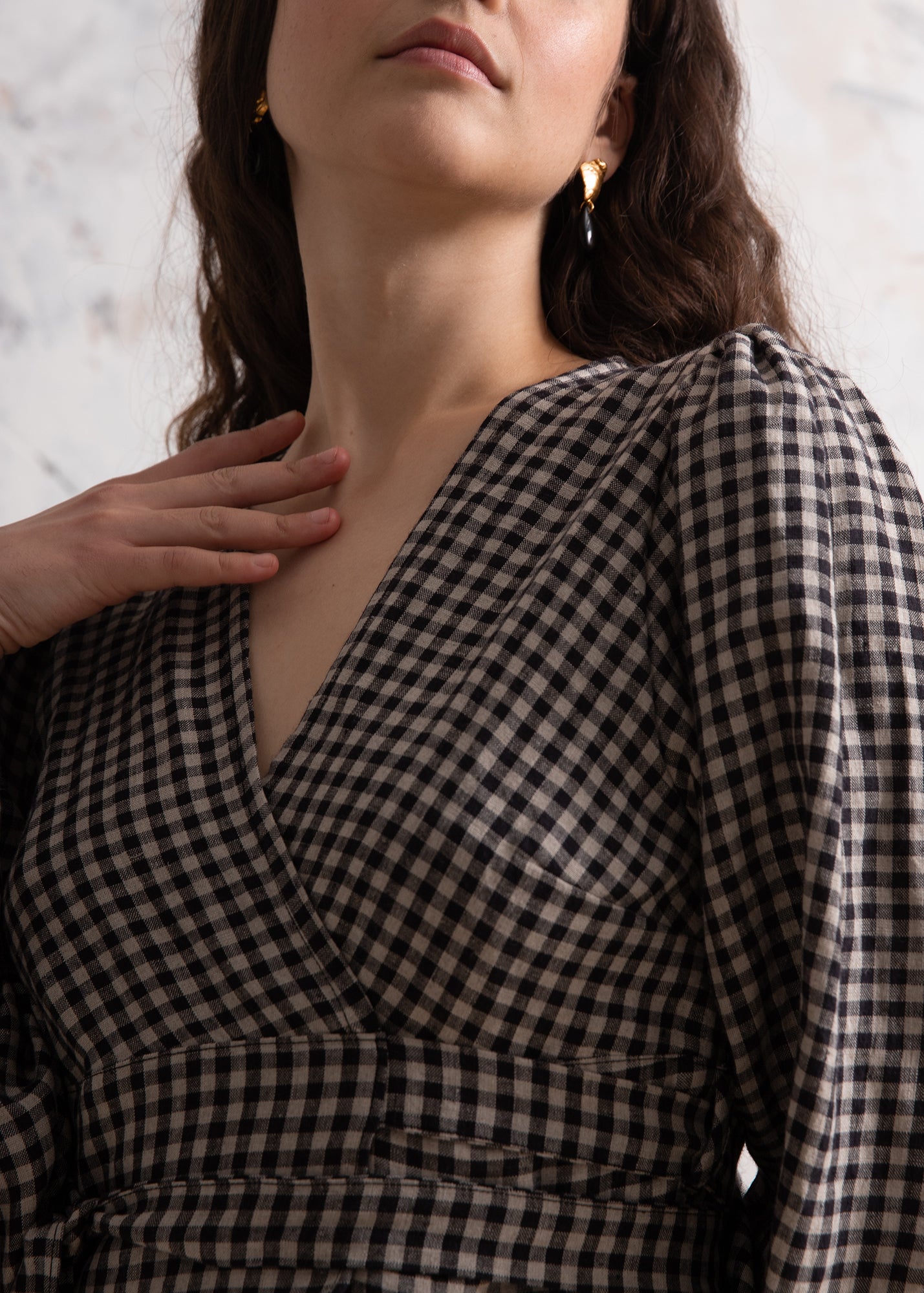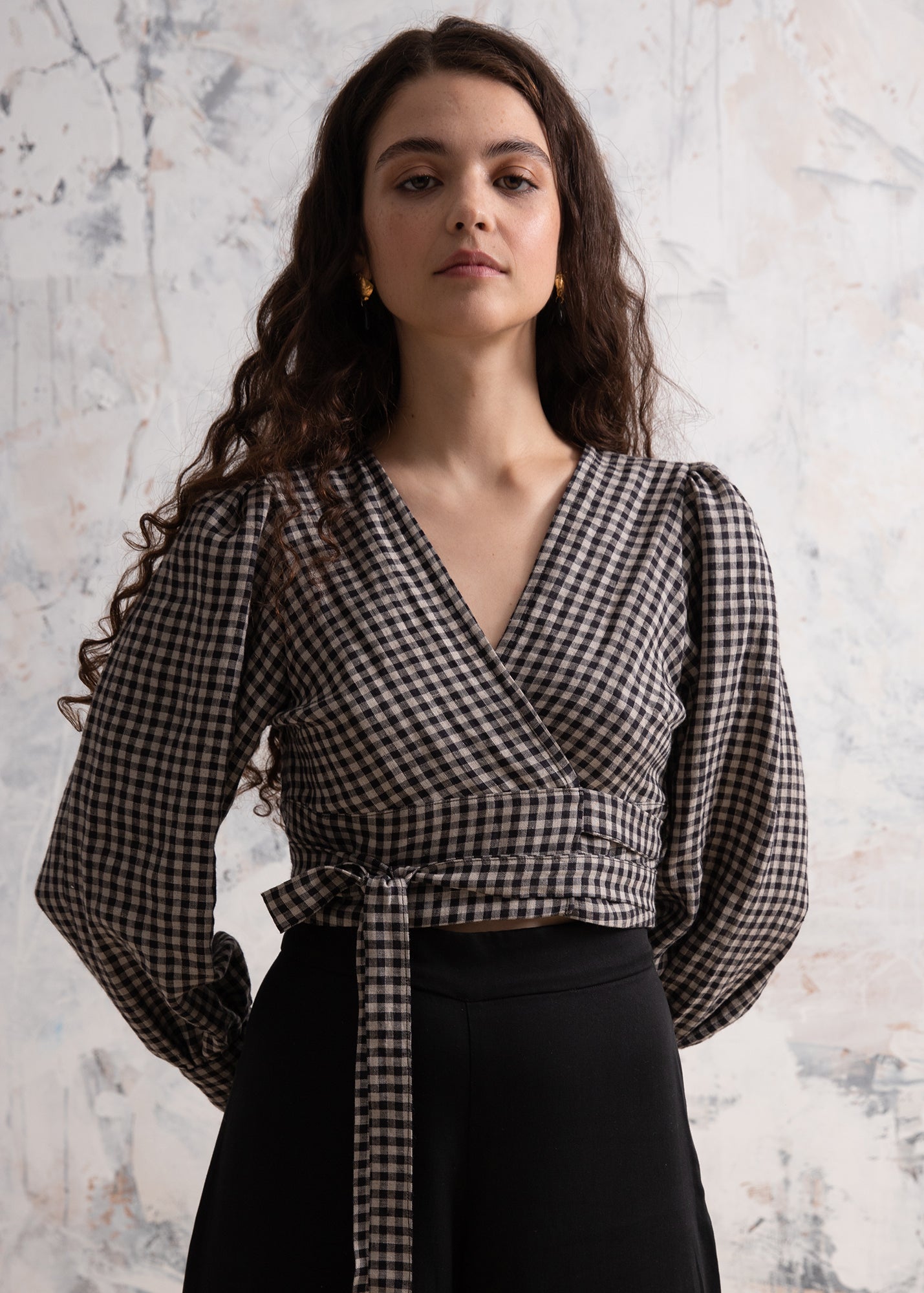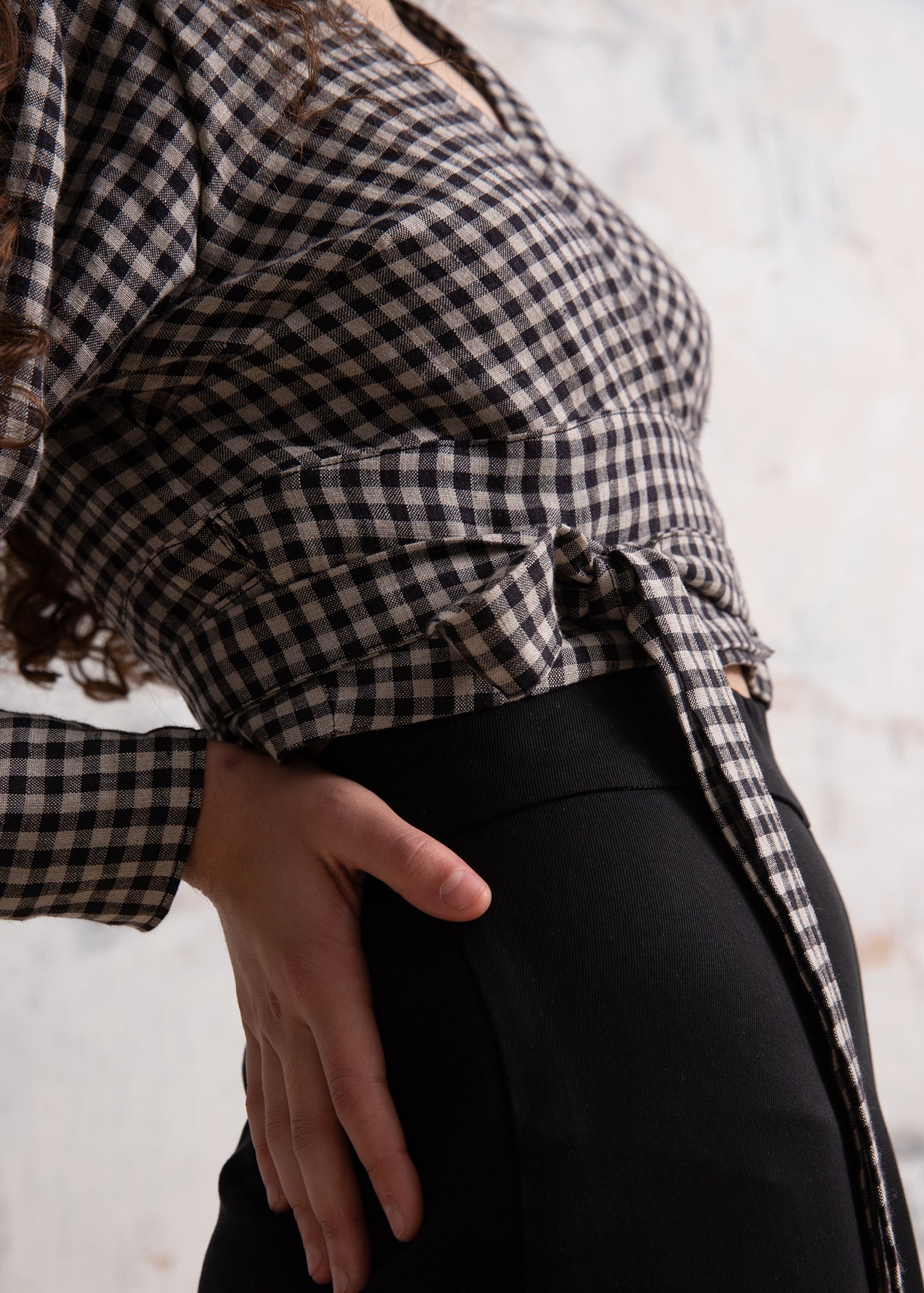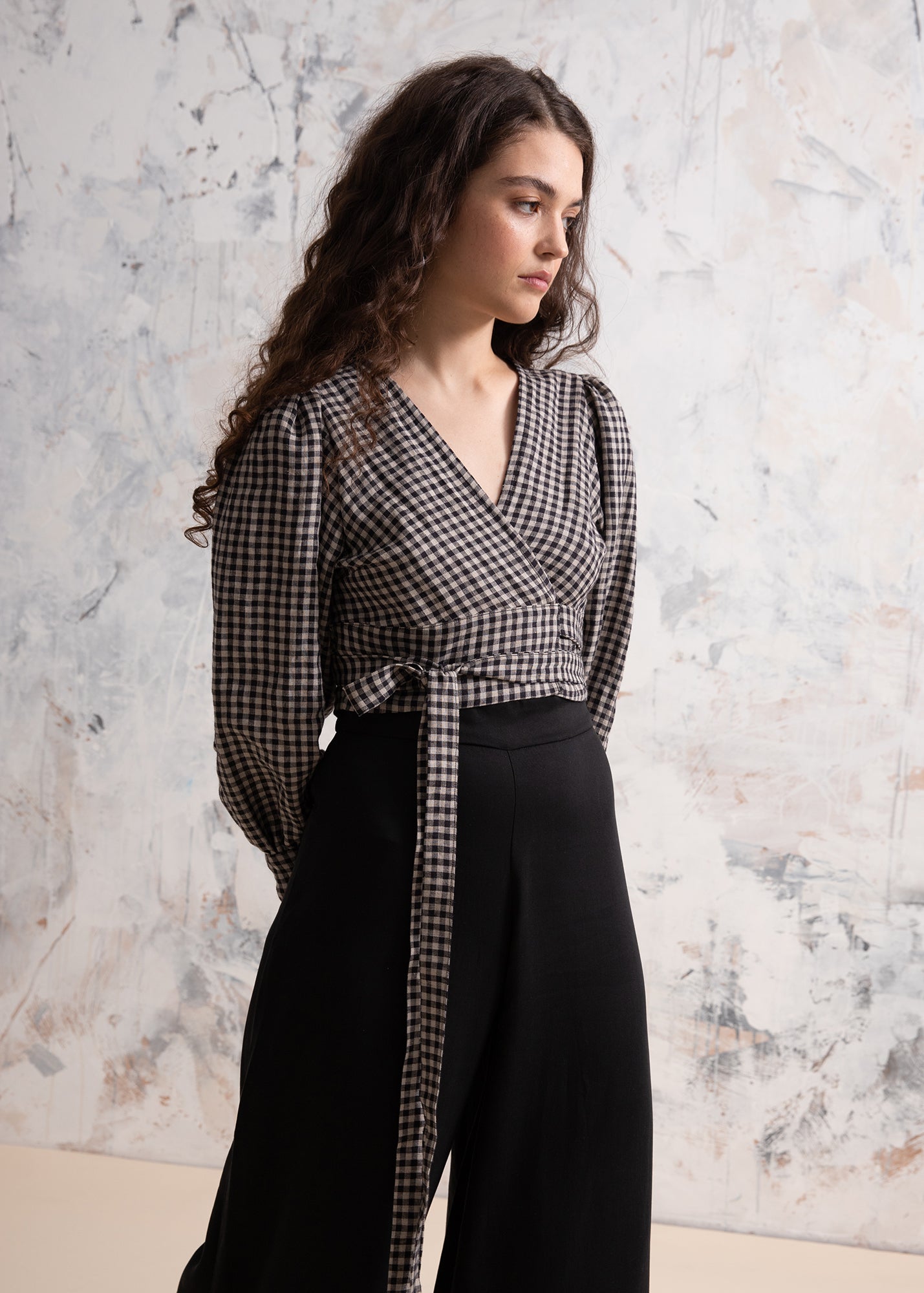 THE CÉCILE BLOUSE - mono gingham
Sale price

$152.00 USD
Regular price
(/)
A wrap blouse designed to flatter with dreamy puff sleeves and deep fitted cuffs. Its classic silhouette and timeless shape make it a wardrobe staple that will outlast the seasons.
Scarlet wears a size S. She is 173cm/5ft8in tall.
Material 
100% LINEN 
Oeko-Tex certified. This linen is produced in small batches in Eastern Europe where there is a strong heritage of spinning and weaving linen fabric. 
More about linen:
Linen is naturally stain resistant, does not pile, and is moth repellent. It is easy to wash as it can sustain high temperatures, is has very little if no shrinkage and is very strong.
It is anti-bacterial, anti-fungal, hypo allergenic and thermoregulating, it will also absorb up 20% moisture before feeling damp.
As the linen fibres have low elasticity (which causes it to crease) it will wear in any areas that are repeatedly folded in the same place for a long time, however it does have much better abrasion resistance than say cotton.
Eco Credentials:
Flax is a strong plant best grown in northern Europe. It needs little or no fertilisers and due to the local climate, little extra water. It doesn't really require many pesticides either as it can grow in poor quality soil. The Advisory Commission Report to the European Parliament stated that flax cultivation has positive effects on eco-system diversity as it allows for an "environmental pause". One hectare of flax can retain 3.7 tonnes of CO2. Every part of the plant is used, what isn't used to produce linen can be used to make linseed oil, paper, cattle feed or even soap.
Linen is therefore almost naturally organic. It is completely biodegradable, recyclable and due to its natural absorbency, it requires less dye than cotton. Linen therefore scores high on the ecological chart.
Washcare
Wash at 30 degrees with a non-bio detergent. Do not tumble. Shake out and dry flat. Linen will always seize up after washing but as soon as you start to use/wear it the fibres relax again.
Although most poésie pieces are machine washable, hand-washing is recommended. Handwashing increases the longevity of textiles by preserving fibres and detailing in a way that washing machines cannot. 
Sizing

Unsure on sizing? See our size chart here. If you need specific measurements tailored to you, please provide them in the note tab once your item is in the shopping cart. It's not a problem, as each piece is made-to-order!
For custom sizing, please provide bust/bra size, waist and height in the note tab at checkout or e-mail info@poesiebyjulie.com after you have placed your order! 
Please allow up to 21 days for the crafting of this piece.
Choose options